---

New gallery addresses:
Abend Gallery
1412 Wazee Street
Denver, CO 80202
Map
Visions West Gallery
2605 Walnut St.
Denver, CO 80205 map

June Openings:
Friday, June 2
First Friday Art Walk, 6-9pm
Various galleries

Friday, June 9
Goodwin Fine Art
Opening Reception, 5-8pm
Shawn Huckins | Somewhere to Nowhere and Holly Lynton | The Birds
Shawn Huckins, Somewhere to Nowhere. Shawn Huckins recent paintings remain text-based with a twist of personal narrative and nostalgia added to the mix. In the summer of 2011 Holly Lynton photographed an old dilapidated New England barn on the property of a former dairy farm in Pioneer Valley. Since then, Lynton has returned every fall and spring season with her large format 8 x 10 inch view camera to record and document the changes to the landscape.
Preview show
Through July 22s

Sandra Phillips Gallery
Opening reception, 6-8pm
Matters on Paper with artists Joshua Field, Anna Kaye, Margaret Kasahara, and Denis Roussel. The immediacy of each artwork in "Matters on Paper" creates a compelling conversation.
more information
Through August 1

Thursday, June 15
Abend Gallery
Note our new address
1412 Wazee Street, Denver, CO 80202
Opening Reception, 6-9pm

Abend Gallery christens its innovative new Wazee Street location with "Palette," an extraordinary exhibition revealing the magnificence that lies just beneath the surface of the mundane. Layered with the bright echoes of masterpieces long complete, those unlikely canvases have been thoughtfully amplified by many of the country's most celebrated painters until they resound with glorious expression that speaks as eloquently of each artist's creative method as to their artistic gifts. Curated by Dina Brodsky and Trek Lexington. Various artists / list
Through July 8

Friday, June 16
David B. Smith Gallery
Opening Reception, 6-8pm
Two exhibitions: Adam Milner's first solo exhibition in the main gallery, Desirable Objects. With works that contemplate corporeality and shared space between bodies, Milner uses blood, flowers, hair, belly button lint, false eyelashes to close gaps between natural and artificial, human and non-human, inside and outside. The works, comprised of rigorously collected and mined material from himself, friends, strangers, and other living things, collectively ask questions about who or what has a body and how those bodies are organized or collected.
Also: Cabinet, artist Adam Milner's first curatorial endeavor at the gallery. This installation accompanies Milner's solo exhibition, Desirable Objects. Cabinet presents a viewer mediated experience inspired by the tradition of Cabinets of Curiosities. With contributions from almost one hundred artists, objects are displayed en masse, collecting meaning and significance from both their proximity to other objects and their open narrative for viewers to decipher. List of artists
Through July 15

William Havu Gallery
Opening Reception, 6-9pm
Fabricating Nature with artists Katie Caron, Judy Gardne,r Margaret Haydon, Sharon Meriash, Regan Rosburg and Naomi Scheck.
On The Mezzanine:
Sushe Felix & Tracy Felix
Through August 5

Friday, June 23
Walker Fine Art
Opening: 5-9 pm
HUMAN | NATURE, featuring: Jessica Drenk, Derrick Breidenthal, Carol Browning, Don Quade, Norman Epp, Karin Schminke, and Lee Heekin. The wonders of natural environments are often known to spark creativity in the human mind. Drawing inspiration from nature, while freeing themselves from representational qualities, these 7 artists collectively evoke natural abstractions through varying media. Their works look at man's influence on nature, and nature's subsequent response. Organic references ground their compositions in an effort to make sense of random elements through nature's inherent geometry.

Walker Fine Art
First Friday Receptions: August 4 & September 1, 5-8pm
Through September 2

Friday, June 26
Third Friday Art Receptions, 6-8pm
Various galleries

Friday, June 29
Last Friday Art Receptions, 6-8pm
Various galleries



Goodwin Fine Art
Shawn Huckins
Misty Morning: Somewhere To Nowhere,
2017 acrylic on canvas mounted to birch panel 23.5 in. dia.
Preview show
Through July 22



Goodwin Fine Art
Holly Lynton
The Birds, II, April 2013
silver gelatin print, collage, 16 x 20 inches, 2017
Preview show
Through July 22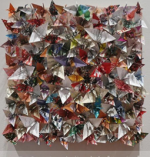 Sandra Phillips Gallery
Matters on Paper Exhibition
Through August 1



Abend Gallery
Marshall Jones
Until the Light Takes Us 2
Oil on palette, 14 x 10"
Through July 8



David B. Smith Gallery
Linda Lopez, Untitled (Porcelain Dust Furry with Gold Rocks #11), 2017, ceramic, 2.5 x 3.125 x 3.125 in.
Through July 15



William Havu Gallery
Judy Gardner
Remembrance
3D print and acrylic on wood panel, 28" x 28" x 8"
Through August 5



Walker Fine Art
Norman Epp
Saw Tooth Blues (detail)
36 x 36
Through September 2



Member Galleries:
---
Abend Gallery
Artyard Contemporary Sculpture
David Cook Fine Art
Gallery 1261
GALLERY M
Goodwin Fine Art
William Havu Gallery
Metro Frame Works
Michael Warren Contemporary
Tam O'Neill Fine Arts
Sandra Phillips Gallery
Plus Gallery
Robischon Gallery
Saks Galleries
David B. Smith Gallery
Space Gallery
Visions West Gallery
Walker Fine Art

---