---

April openings:
Pismo Fine Art Glass
After 25 fun and wonderful years, owner Sandy Sardella is retiring and PISMO Glass will be closing. PISMO thanks all our loyal customers and friends who have supported us over the years. Our 'Retirement Sale" will continue through the ski season at our Denver, Vail, and Aspen galleries. Thanks for being a part of PISMO!

Friday, April 17
Goodwin Fine Art
Opening Reception, 5 - 8 pm
Shawn Huckins | The American __Tier Through May 30

Friday, April 24
Abend Gallery
Group Exhibition: Landscape, opening on April 24th, 6-9pm. This massive invitational features works from a wide array of the best landscape painters today.Participating Artists: Joshua Been, Lorenzo Chavez, Michelle Condrat, Sean Conrad, Stephen Day, Tim Deibler, Harold Deist, Jacob Dhein, Marin Dobson, Ernie Gallegos, Bruce A Gomez, Marc Hanson, David Harms, Derek Harrison, Jane Hunt, Nicole Hyde, David Kammerzell, Deb Komitor, Lindsey Kustusch, Sergio Lopez, Carolyn Miller, Tammi Otis, John Pototschnik, Hadley Rampton, Angie Renfro, Sascha Ripps, John Roush, Scott Ruthven, Matthew Saba, Elizabeth Sandia, Dave Santillanes, Kirsten Savage, David Shingler, Jean Shom, Robert Spooner, Elsa Sroka, Gary A Steffen, Travis Walker, Tracy Wall, Mike Wise, Zhaoming Wu, and Timothy P Wilson
Through May 22

April openings:
Friday, May 1
David R. Smith Gallery
Artistís Reception, 7-9 pm
Outpost, with the New York-based artist Paul Jacobsen. He purchased a minerís cabin in the San Juan Mountains of Colorado just prior to the legalization of marijuana, and the paintings in Outpost serve as documents of his experiments in growing this newly legal plant.
Though May 29

Friday, May 8
William Havu Gallery
Opening Reception: 6 - 9 pm
Earth, Water & Sky with artists James Cook, Jivan Lee, and David Warner.
Through June 20

Friday, May 15
Saks Galleries Cherry Creek
Opening Reception, 5-8pm
The Magic of Realism with participating artists: William Acheff, Michael Arcieri, Marina Dieul, David Gray, Richard Hall, Andrea T. Kemp, Olga and Aleksey Ivanov and Eric Wert.
.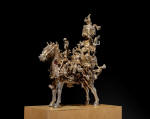 Pismo Fine Art Glass
Retirement announcement



Goodwin Fine Art
Shawn Huckins, Mary Ann Garrits: Know What I'm Saying
acrylic on canvas. 36 x 28
Through May 30



Abend Gallery
Scott Ruthven
A Warm Farewell
Oil, 18 x 24 inches
Through May 22



Abend Gallery
Jacob Dhein
Oceanscape
Oil, 16 x 16"
Through May 22



David R. Smith Gallery
Untitled, 2014
oil on linen, 40 x 30 inches
Though May 29



William Havu Gallery
James Cook
St. Vrain River
oil on canvas 65" x 170" diptych
Through June 20



Saks Galleries Cherry Creek
Andrea T. Kemp

Member Galleries:
---
Abend Gallery
Artyard Contemporary Sculpture
44T Artspace at Metro Frame Works
David Cook Fine Art
Gallery 1261
GALLERY M
Goodwin Fine Art
William Havu Gallery
Mod Space Design
Tam O'Neill Fine Arts
Sandra Phillips Gallery
Pismo Fine Art Glass
Plus Gallery
Robischon Gallery
Saks Galleries Cherry Creek
David B. Smith Gallery
Space Gallery
Visions West Gallery
Walker Fine Art

---