---

March openings:
Pismo Fine Art Glass
After 25 fun and wonderful years, owner Sandy Sardella is retiring and PISMO Glass will be closing. PISMO thanks all our loyal customers and friends who have supported us over the years. Our 'Retirement Sale" will continue through the ski season at our Denver, Vail, and Aspen galleries. Thanks for being a part of PISMO!

Friday March 6
Saks Galleries Cherry Creek
The Spring Exhibition with gallery artists in acrylics, mixed media, oil, pastel, and sculpture. Participating Artists Edward Aldrich, Deborah Bays, William Berra, Stephanie Birdsall, Gordon Brown, Sophy Brown, G. Russell Case, Raj Chaudhuri, Jane Christie, Doug Dawson, Jane DeDecker, C. Michael Dudash, Barry Eisenach, Kim English, Nura Mascarenas English, Daniel Glanz, Walt Gonske, Olga and Aleksey Ivanov, Ralph Grady James, T.D. Kelsey, Andrea T. Kemp, Stanka Kordic, Joseph Lorusso, Kim Mackey, Sara Noel, Kyle Paliotto, Stacey Peterson, Mary Qian, Cheryl St. John, Wayne Salge, Sallie K. Smith, Jill Soukup, Pati Stajcar, Shirley Thomson Smith, Clive R. Tyler, Seth Winegar, Dinah Worman and Jie Wei Zhou.
view the exhibit
Through May 2

Thursday, March 19
Robischon Gallery
Opening reception for the artists, 6-8 pm
"Far Between" Group Exhibition featuring: Kahn + Selesnick, Halim Al Karim, Maria Friberg, Ruud van Empel, Christine Buchsbaum, David Zimmer, Chi Peng, and Wang Ningde. As part of Denver's Month of Photography series, Robischon Gallery presents "Far Between," an exhibition of photography and photo-based work by highly influential as well as emerging artists who explore a range of imagery of a surreal, fantastical or ethereal nature. The artists' work on view offers entry into distinctive dream-like or cinematic worlds, further illuminated by a myriad of inhabitants who evoke a sense of mystery and narrative.
Through May 2

Friday, March 20
Abend Gallery
Peggy McGivern, solo exhibition Beyond the Iron Curtain: Reflections in Paint and Verse. It has taken years to formulate this show, for the paintings and poems to help resolve our feelings about the people and places. Now we invite you to join us for Poetry and Paintings and listen to hauntingly beautiful Eastern European folk music by Mark Dudrow and Chipper Thompson played on the traditional Romanian Bouzouki instrument,so you too, can travel Beyond the Iron Curtain. –Peggy McGivern

Walker Fine Art
Reception, 5-9 pm
UNCONSCIOUS METAPHORS Featuring: Anne Arden McDonald, Susan kae Grant, Zelda Zinn, Bonny Lhotka. In celebration of the Month of Photography, Walker Fine Art presents an all-woman group exhibition featuring Anne Arden McDonald, Susan kae Grant, Bonny Lhotka and Zelda Zinn. "I have a personal affinity for surrealism," says gallery owner and curator Bobbi Walker. "I find the intellectual narrative of reality juxtaposed with a dream world quite fascinating." The overreaching goal of this 20th-century avant-garde movement in art and culture was to magnify the creative potential of the unconscious mind. The artists featured in this exhibit continue this tradition.

Sandra Phillips Gallery
Opening artist reception, 6 - 8 pm
Color Matters with Irene Delka McCray. Artists see their world as a kaleidoscope of colors as the most powerful of all the art elements. Color originates in light, the visual effect caused by a spectral composition of light reflected by objects. But here's the catch, we see color on a personal level thru our personal filters, realities and sensibilities. Georgia O'Keefe often said she could say things with color that she couldn't say in any other way, things she had no words for.
Through May 2

William Havu Gallery
Opening Reception, 6 - 9 pm
Monroe Hodder Smoke And Mirrors. Featuring: Robert Delaney, Joanne Kerrihard & Amy Metier. On The Mezzanine: Month Of Photography Marc Berghaus
Through May 2

Saturday, March 21
Walker Fine Art
MoP Artist Panel Discussion: 1-2pm
MOP Panel Artists: Anne Arden McDonald, Zelda Zinn, and Bonny Lhotka will discuss their inspiration and underlying narrative of the works from the current exhibit, "Unconscious Metaphors". They will give insight into their creative methods, inspiration and underlying meaning of their work

Friday, March 27
David B. Smith Gallery
Opening reception for the artists, 7-9pm
Joel Swanson: A.K.A. featuring new works that continue to consider language as interface into our everyday lives. Culling content from comic books, air freshener scents, catalogs, and other branded packaging, Swanson's new bodies of work are at once familiar in their commonness and foreign in their new forms. In the project room: Christopher Russell.
Through April 25

Saturday, March 28
Abend Gallery
Special artist's demonstration,11am-3pm, with Peggy McGivern, in support of her incredible solo effort in our main gallery space.

Tuesday, March 31
Walker Fine Art
Art Conversations Series, 5:30-7:00p
Bobbi Walker, Surrealism, "Unconscious Metaphors"
The overreaching goal of this 20th-century avant-garde movement in art and culture was to magnify the creative potential of the unconscious mind. The Surrealists believed that the conscious mind repressed the power of imagination, weighting it down with taboos. In surreal photography lighting and exposures are often played with more than in conventional photography, and this can lead to ghostly forms, abstract shapes and interesting use of light/shadows. Through free association, cerebral yet irrational, we can witness the juxtaposition of the intellectual narrative of reality with a dream world.
.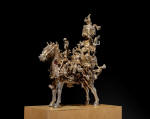 Pismo Fine Art Glass
Retirement announcement



Saks Galleries Cherry Creek
William Berra
Reflections
oil on linen, 12 x 9 inches
Through May 2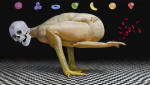 Robischon Gallery
Kahn + Selesnick
Melora
Pigment print
Through May 2



Abend Gallery
Peggy McGivern
Crossing the Danube
48 x 40 inches



Walker Fine Art
Anne Arden McDonald
Self Portrait
Through: May 2



Walker Fine Art
Zelda Zinn
Etched in Memory
Through: May 2



David B. Smith Gallery
Joel Swanson
Phyto Intense Hydration
Shampoo for Dry Hair, 2015
steel, 6 x 7.75 inches
Through April 25



David B. Smith Gallery
Joel Swanson
Explosion #32, 2014
pigment print folded and
scratched with razor
39 x 57 inches
Through April 25



Sandra Phillips Gallery
Irene Delka McCray
Lost Angel
Oil on canvas, 52 x 38 inches
Through May 2



William Havu Gallery
Monroe Hodder
Razzle Dazzle
Through May 2

Member Galleries:
---
Abend Gallery
Artyard Contemporary Sculpture
44T Artspace at Metro Frame Works
David Cook Fine Art
Gallery 1261
GALLERY M
Goodwin Fine Art
William Havu Gallery
Mod Space Design
Tam O'Neill Fine Arts
Sandra Phillips Gallery
Pismo Fine Art Glass
Plus Gallery
Robischon Gallery
Saks Galleries Cherry Creek
David B. Smith Gallery
Space Gallery
Visions West Gallery
Walker Fine Art

---