---

May openings:
Pismo Fine Art Glass
After 25 fun and wonderful years, owner Sandy Sardella is retiring and PISMO Glass will be closing. PISMO thanks all our loyal customers and friends who have supported us over the years. Our 'Retirement Sale" will continue through the ski season at our Denver, Vail, and Aspen galleries. Thanks for being a part of PISMO

Friday, May 1
David R. Smith Gallery
Artist's Reception, 7-9 pm
Outpost, with the New York-based artist Paul Jacobsen. He purchased a miner's cabin in the San Juan Mountains of Colorado just prior to the legalization of marijuana, and the paintings in Outpost serve as documents of his experiments in growing this newly legal plant.
Though May 29

44T Artspace at Metro Frame Works
Opening reception, 6-10pm
A group exhibition of incredible original prints by established printmakers Ray Maseman, Deborah Donelson, Pamela Wesolek and Jacqui Lewnes. All four artists are member printmakers at New Grounds Print Workshop, a non-toxic printmaking facility in Albuquergue, New Mexico

Friday, May 8
William Havu Gallery
Opening Reception: 6 - 9 pm
Earth, Water & Sky with artists James Cook, Jivan Lee, and David Warner
Westword review by Michael Pagila
Through June 20

Walker Fine Art
Opening reception, 5-9pm
Sabin Aell, New Works and in the back gallery, Udo Noger, Angela Belian and Liz Quan.
Through June 20

Thursday, May 14
Robischon Gallery
Artist's reception, 6 – 8 pm
Concurrent Solo Exhibitions: Deborah Zlotsky Don Voisine Jason Karolak and Ted Larsen Handmade Mechanicals. In the Viewing Room: Derrick Velasquez Kate Petley Jae Ko. Robischon Gallery is pleased to present four concurrent solo exhibitions of formal abstraction featuring new paintings by New York artists Deborah Zlotsky, Don Voisine and Jason Karolak and sculpture by New Mexico artist Ted Larsen. more info Through July 3

Friday, May 15
Saks Galleries Cherry Creek
Opening Reception, 5-8pm
The Magic of Realism with participating artists: William Acheff, Michael Arcieri, Marina Dieul, David Gray, Richard Hall, Andrea T. Kemp, Olga and Aleksey Ivanov and Eric Wert

Wednesday, May 20
William Havu Gallery
Artist Reception at the Buell Theatre, 5:30 - 7:30pm
14th & Curtis, Denver
Homare Ikeda, Selected Works, Buell Theatre Exhibition Series
Through June 2015

June openings:
Thursday, June 4
Goodwin Fine Art
Opening reception, 5-8pm
New works by Mia Brownell, Holly Lynton and Melanie Sherman
Mia Brownell, Still Life with Tulip Chain, 2015, oil on canvas, 24" x30"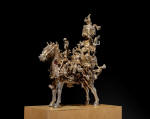 Pismo Fine Art Glass
Retirement announcement



David R. Smith Gallery
Untitled, 2014
oil on linen, 40 x 30 inches
Though May 29




44T Artspace at
Metro Frame Works
Printmakers Ray Maseman, Deborah Donelson, Pamela Wesolek and Jacqui Lewnes



William Havu Gallery
James Cook
St. Vrain River
oil on canvas 65" x 170" diptych
Through June 20



Walker Fine Art
Sabin Aell
Through June 20



Robischon Gallery
Deborah Zlotsky
Conveyor
oil on canvas 30 x 90 inches
Through July 3



Saks Galleries Cherry Creek
Andrea T. Kemp



William Havu Gallery
Homare Ikeda
Going Home
Acrylic & oil on canvas, 46" x 38
Buell Theatre Exhibition Series
Through June 2015



Goodwin Fine Art
Mia Brownell
Still Life with Conventional Biopolymers
2015 Oil on canvas 36" x 30"
Through July 18


Member Galleries:
---
Abend Gallery
Artyard Contemporary Sculpture
44T Artspace at Metro Frame Works
David Cook Fine Art
Gallery 1261
GALLERY M
Goodwin Fine Art
William Havu Gallery
Mod Space Design
Tam O'Neill Fine Arts
Sandra Phillips Gallery
Pismo Fine Art Glass
Plus Gallery
Robischon Gallery
Saks Galleries Cherry Creek
David B. Smith Gallery
Space Gallery
Visions West Gallery
Walker Fine Art

---