---

June Openings:
1st and 3rd Friday Openings at participating galleries

Month of June:
Saks Galleries Cherry Creek
Current works and exhibits with gallery artists

Friday, June 2
Abend Gallery
Opening reception, 4-6 PM Location: 1261 Delaware St. Denver
Wild at Art, an exhibition featuring Morgan Cameron, Marina Dieul, Claudia Griesbach-Martucci, and Lucia Heffernan. Our exclusive online collector preview is now live here . Purchase these works directly on our website. If there's no "purchase" button, that piece is likely sold or being sold. Don't miss out on these extraordinary artists' work. Visit our website for parking information.
Through June 27

Plinth Gallery
Opening, 6-9pm
Mechanical Movements by artist Kenneth Baskin who writes, "An artifact is defined as an object created through human ingenuity. And that object, as artifact, in inherent within a cultural or historical context." Baskin's interest lies in the abstraction of machine parts skillfully executed in clay. Each piece contains an implied sense of movement. While they represent a part of a mechanical movement, they exist as individual representations of a complete machine as an artifact. That they are selected portions of a full apparatus, our sense of inquiry is piqued as to "where did they come from, or how did they get to this place in time and space." Using the industrial revolution as a historical reference, Baskin understands that such creations are a combination of human activity and cultural need and evolution. This "push and pull and the "give and take," imply movement though the sculptures are static. Our sensibilities ask the parts to move and interact with us.
Through July 1

Gallery 1261
Artist's Reception, 4-6 pm. Location: 1261 Delaware St, Denver,
Experience the captivating artworks of Ron Hicks in "Equinox" and the stunning pieces by Suchitra Bhosle in "Ethereal Beauty." Click on the artist's name for the Collector Preview.
Through June 27

Friday, June 9
Space Gallery
Opening Reception, 5-8pm
Featuring new work by Lynn Heitler
Through July 29

Monday, June 19
Space Gallery
Opening reception, 6:30-9:30pm
Art for Hope, featuring new work by William Stoehr. "The "Art for Hope" exhibition is aimed at addressing the stigma associated with substance use disorder and promoting open discussions about it. The exhibition features portraits that highlight the diverse individuals affected by this condition, serving as a reminder that they are not alone in their struggles. By showcasing these faces, I hope to evoke empathy and a deeper understanding of their struggles and to normalize the conversation around substance use disorder, ultimately leading to improved diagnosis, treatment, and recovery outcomes." - William Stoehr
Through July 15

Friday, June 30
William Havu Gallery
Opening reception, 5 - 8 pm
Jeff Aeling, Mountains, Plains & Trees. On the Mezzanine: introducing Steve Cope. Jeff Aeling was born in 1958 in Iowa City, Iowa and currently resides in St. Louis, Missouri. His father was an Army physician during the 1950s and 1960s so the family moved from one hot spot to another when the Cold War dominated the American consciousness. His connection to nature came when the family was posted in Hawaii. Aeling's painting travels take him all over the southwest. He finds himself returning to particular areas that allow clear observations of the weather, atmosphere and the unobstructed lay of the land. Out on location, Aeling absorbs the geography and the rich earth colors, terra verde, ochre and reds that permeate the landscape. Jeff Aeling's universal landscapes possess a stunning intimacy that conveys unexpected power and emotion. His paintings draw upon a vastness that gives you a sense of wonder and awe about the universe. His paintings are in numerous prestigious corporate and museum collections and can be seen at the Denver Art Museum. Aeling has been represented by William Havu Gallery since 2004.
Through August 31



Saks Galleries Cherry Creek
Kathleen Frank
Up the Slate River
36 x 36 inches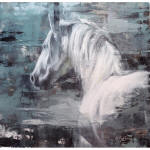 Abend Gallery
Morgan Cameron
Fade, 2022
Oil on panel 12 x 12 in
Through June 27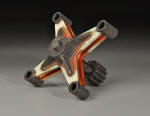 Plinth Gallery
Kenneth Baskin
Mechanical Movements
Ceramic
Through July 1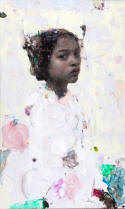 Gallery 1261
Ron Hicks
Auroral Continuum, 2022
Oil on cradled panel,
39.75 x 23.75 in.
Through June 27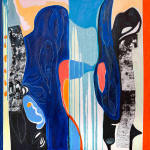 Space Gallery
Lynn Heitler
Alexa Play The Blues
Oil on canvas, 40"X40"
Through July 29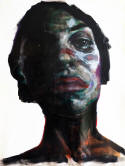 Space Gallery
William Stoehr
Reanna 7
Acrylic on canvas, 80 X 60 inches
Through July 29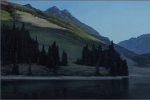 William Havu Gallery
Jeff Aeling
Maroon Lake, CO.
Oil on panel 48 x 72 inches
Through August 31
Member Galleries:
---
Abend Gallery
David B. Smith Gallery
David Cook Fine Art
Gallery 1261
GALLERY M
K Contemporary
Mai Wyn Fine Art
Michael Warren Contemporary
Plinth Gallery
Plus Gallery
Robischon Gallery
Rule Gallery
Saks Galleries
Sandra Phillips Gallery
Space Gallery
Visions West Contemporary
Walker Fine Art
William Havu Gallery
William Matthews

---